CAPRICE SOH74000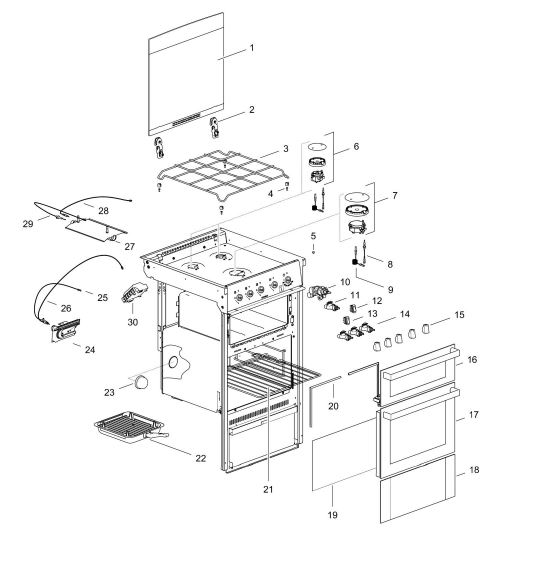 Most common parts for CAPRICE SOH74000 COOKER can be found below.
Please take care to choose correct version of some items below as there can be multiple versions due to manufacture date / model type etc.
Other parts are available, please click PDF below for full parts list and please use our enquiry form. Thanks.
| Image Ref | LS part number | Manufacturers part number | Description |
| --- | --- | --- | --- |
| 1 | G990.BK | SMG0990.BK | GLASS LID - STD SMOKED |
| 2 | SSPA0010 | SSPA0010 | SPARES KIT - GLASS LID HINGE (SMALL) 2 hinges + hardware |
| 3 | SSPA0967 | SSPA0967 | PAN SUPPORT KIT ** WAS PCC0687 AND PCC0669 ** |
| 4 | SSPA0041 | SSPA0041 | pan support spares kit(4xpcc0647 + 4xpcc0650 + screws) |
| 5 | SSPA0040 | SSPA0040 | BUMP STOPS KIT - 2 x pcx0389, 2 x pcx0382, 4 x pcx0391, 2 screws |
| 6 | SSPA0114 | SSPA0114 | SPARES KIT - SR BNR, SAB S2, SKIRTLESS, CAMP, 0.62 |
| 7 | SSPA0123 | SSPA0123 | RAPID BURNER SKIRT AND CAP STUD WASHER AND SCREWS |
| 8 | SSPA0310 | SSPA0310 | SPARES KIT HOB ELECTRODES ( 4 X 600M ELECTRODE and LEAD) |
| 10 | SSPA0452 | SSPA0452 | OVEN TAP 0.20 (TYPES) spade connection fitted before march 2011 |
| 11 | SSPA0472 | SSPA0472 | GAS TAP GRILL SPADE TYPE fitted before march 2011 |
| 12 | SSPA0381 | SSPA0381 | IGNITION ROCKER SWITCH |
| 13 | SSPA0591 | SSPA0591 | LIGHT SWITCH |
| 14 | SSPA0432 | SSPA0432 | SINGLE GAS TAP STRAIGHT 0.34 (TYPE S) |
| 19 | SSPA0253 | SSPA0253 | ASP1/MK3 GLASS INNER DOOR 359mm x 288mm |
| 20 | SSPA0062 | SSPA0062 | DOOR SEAL KIT 2 X SEAL ** WAS PCO0246 ** |
| 21 | PCO0292 | SSPA0980 | SHELF 37 CM WIDE |
| 22 | SSPA0991 | SSPA0991 | GRILLPAN ASSY MEDIUM |
| 23 | SSPA0560 | SSPA0560 | OVEN LAMP KIT |
| 24 | SSPA0191 | SSPA0191 | OVEN BURNER KIT was MAO0064 |
| 26,29 | SSPA0321 | SSPA0321 | spark electrode KIT grill and oven |
| 30 | SSPA0399 | SSPA0399 | SPARK GENERATOR BOX (was pcc1399) |