STOVES (glen dimplex)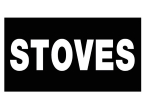 STOVES (Glen Dimplex) are manufacturers of cookers and hobs.
Stoves used to have a vast range of models in mobile vehicles and static caravans, although now it is mainly statics.
Due to their large number of models it is not possible to put all the spare parts diagrams on this site.
Please look for a dataplate on the appliance and the model number should start :-
0505?????
0590?????
44444????
Please email us with the model number and if available, we will send you a manufacturers parts list / diagram to assist in identifying part number(s) required.
GAS SAFETY :- All persons working on gas should be suitably qualified and certified competent