CAPRICE 6000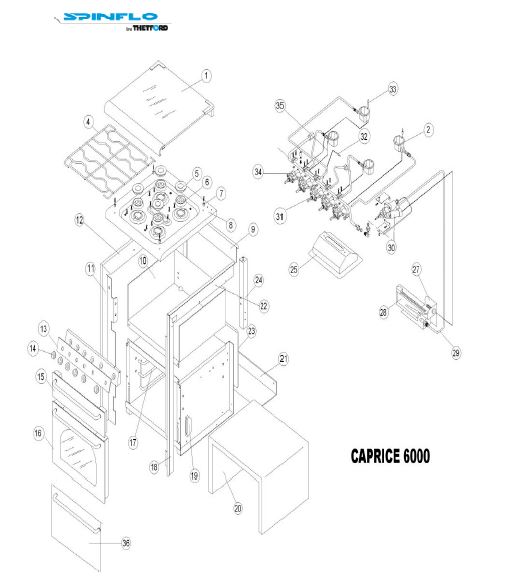 Most common parts for CAPRICE 6000 COOKER can be found below.
Please take care to choose correct version of some items below as there can be multiple versions due to manufacture date / model type etc.
Other parts are available, please click PDF below for full parts list and please use our enquiry form. Thanks.
ALL GLASS ITEMS (and some other parts) are NO LONGER AVAILABLE FOR THIS OLD COOKER.
| Image Ref | LS part number | Manufacturers part number | Description |
| --- | --- | --- | --- |
| 2,5,6 | SSPA0130 | SSPA0130 | BURNER CUP, SKIRT, CROWN AND CAP COMPLETE |
| 7 | SSPA0041 | SSPA0041 | pan support spares kit(4xpcc0647 + 4xpcc0650 + screws) |
| 32 | SSPA0157 | SSPA0157 | GRILL SCREW T/COUPLE-WAS PCC1154/64 AND SPA0157 |
| 33,35 | PCC1162 | | THERMOCOUPLE SPINFLO 450ML (was PCC1154/5/7) |
| | SSPA0065 | SSPA0065 | DOOR SEAL (WAS PCO0245) |
| | SSPA0384 | SSPA0384 | IGNITION SWITCH, NUT, ROUND BUTTON |
| | SSPA0399 | SSPA0399 | SPARK GENERATOR BOX (was pcc1399) |
| | PCO0285 | PCO0285 | SHELF MIDI PRIMA OP6 / CARA / CAPRICE / INT**39cm** |