CARAVAN HEATERS truma
TRUMA are manufacturers of products for the caravan, motorhome & leisure industry. Their range of products include : Boilers, heaters, aircon, gas fittings, movers etc.
Below are diagrams and parts lists of commonly requested models. Leisure Spares also stock Truma spare parts for most other models not listed. Please contact us with your request.
Please supply model number when enquiring about spares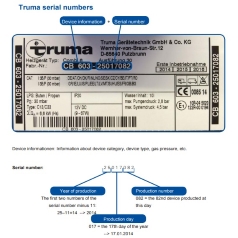 All Truma products should have a dataplate on the product similar to image on the right
Truma serial number example
25017082
1st 2 digits minus the number 11 = year of production (2014)
017 = the 17th day of the year (17/01) – so date of production = 17/01/2014
Last 3 digits 082 = 82nd device produced on that day
PLEASE ADVISE MODEL NUMBER AND SERIAL NUMBER WHEN ENQUIRING ABOUT ANY TRUMA PRODUCT, OR PLEASE SUPPLY PHOTO OF DATAPLATE.
Further information / assistance on Truma products can also be found on the Truma website at :- https://www.truma.com/uk/en/home/index.html
Thanks